INFLATABLE WINDSURF BOARD AIR IN THE BOARD – WIND IN THE SAIL   Double-layer, low-extension woven drop-stitch Fusion Welded technology adds stiffness, improves durability with a higher resistance to...
FREE
SHIPPING
FINANCE
AVAILABLE
ONLINE
SUPPORT 24/7
INFLATABLE WINDSURF BOARD
AIR IN THE BOARD – WIND IN THE SAIL
Double-layer, low-extension woven drop-stitch Fusion Welded technology adds stiffness, improves durability with a higher resistance to puncture, improves shape stability over time and reduces weight. New improved efficiency and reduced drag ensure easier planing. Enclosing the AirPlane's rear fin box permanently in the board streamlines the bottom shape, which improves early planing and top-end speed. The new box is glued in place and no longer removable, which also makes the board easier to set up.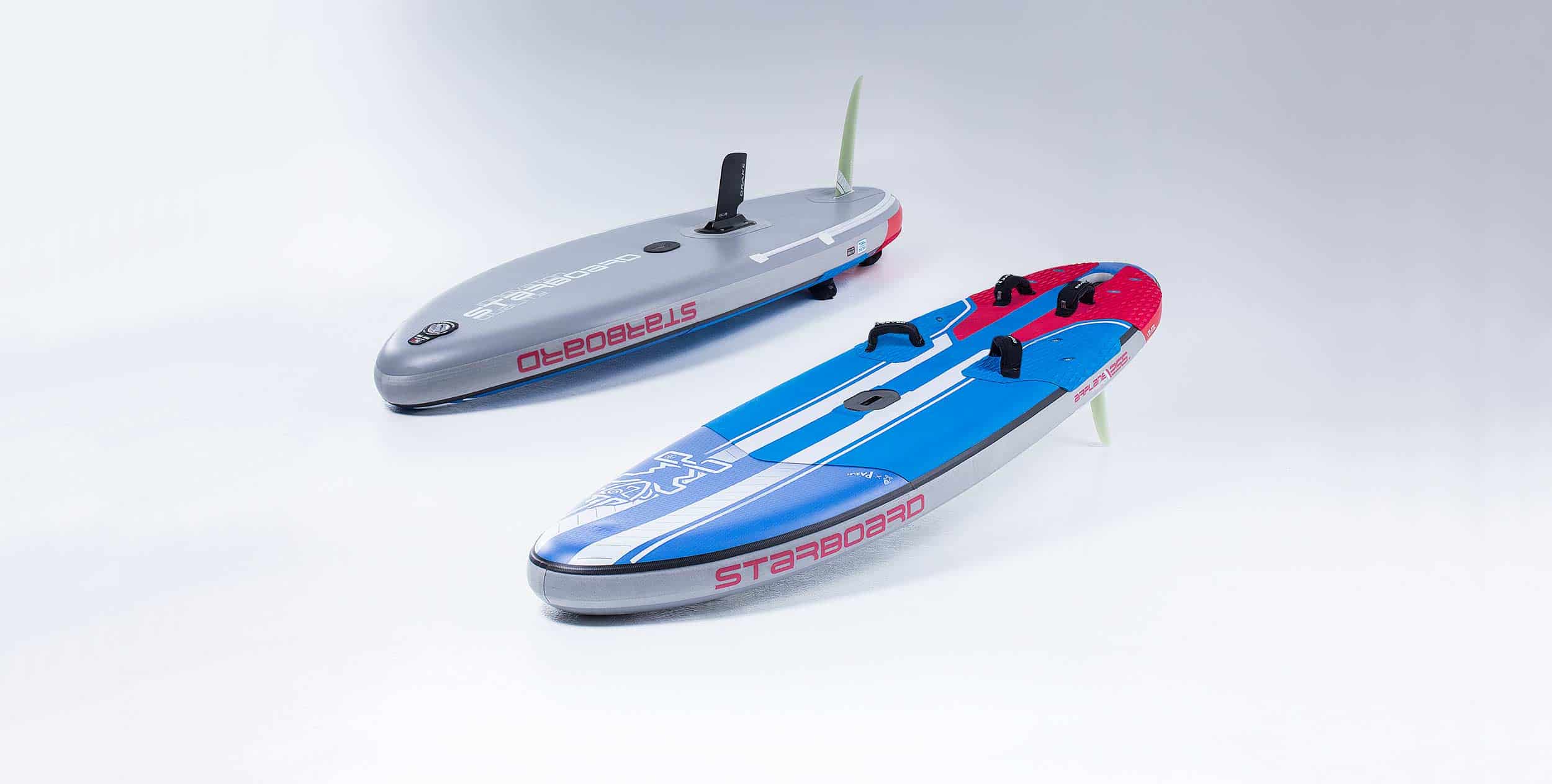 WOVEN DROPSTITCH TECHNOLOGY

The new woven dropstitch technology is used on the top and the bottom of the board.

The process starts with a glue-free PVC lamination. The new weave provides a structure for the polyester yarns – which gives the board its shape. The weave has less give than the traditional knitting method. Knitted fibers have soft and stretchy properties, whereas this new weaving is superior in stiffness, reflex, and rigidity.

WELDED RAIL TECHNOLOGY

Starboard's Welded Rail Technology uses a new & advanced heat-welding process whereby the top and bottom layers of the board are mechanically bonded. That means there is no glue used to join the top and bottom along the rails (where leakage can occur) and these joins are now bonded for life – making our boards the most durable on the market!

FULL POWER PLANING

The Starboard invention that created the planing inflatable windsurfing board segment. A proprietary 3D elastomer compound rail edge runs along the rails of the board, creating a hard edge that allows for a clean water release and higher speed, yet fold and roll up. We've improved the Rail Edge to improve grip while carve jibing.

SAFE MAST TRACK

To make the mast insert system extra safe and strong, we insert it from underneath the board. A deck plate distributes the top load over a large area for added stiffness.

EXCLUSIVE FOOTSTRAP SYSTEM

Starboard's exclusive footstrap insert system uses 7mm thin insert plates that are glued to the board's surface. The footstraps bolt into the embedded brass plate and two male pins connect through the footstrap for a twist-free fitting.

 

REMOVABLE CENTER FIN

All models have a removable center fin box. Remove the box for an improved paddling experience without the added weight or drag. Attach the box and supplied Drake Shallow center fin to prevent the board from drifting sideways when windsurfing.

FINE TUNED ROCKER

The rocker has been adjusted to provide the right combination of lift, glide and manoeuvrability. All boards come in 6″ thickness.

ROLLER-WHEELED BAG

Our Airplane inflatable windsurf boars is supplied with our new roller-wheeled bag that packs everything away tidily and conveniently. Made of a RPET 450D outer fabric layer made from recycled plastic bottles, in partnership with Waste2Wear. Between 30 to 50 bottles are used per bag. 

V8 DOUBLE ACTION PUMP

All boards are supplied with our benchmark V8 Double Action pump. Inflate your board faster and easier with continuous pumping cycles in both down and upward action. Turn the switch and it becomes a single action pump for easy inflation to 18 PSI. 
Poole Harbour Watersports delivery and shipping terms can be found on our page
Delivery Info
Free Delivery is available, but certain charges apply for oversized and second hand items, and items being shipped abroad.
If you require any more information, please feel free to contact us at
info@pooleharbour.co.uk
or 01202 700503.