BETTER LOW-END. GREATER CONTROL. HIGHER TOP SPEED. IMPOSSIBLE? NOT FOR US! WHAT'S NEW? This year we introduce a completely new concept on three sizes: 67, 72 and 85. With our...
FREE
SHIPPING
FINANCE
AVAILABLE
ONLINE
SUPPORT 24/7
BETTER LOW-END. GREATER CONTROL. HIGHER TOP SPEED.
IMPOSSIBLE? NOT FOR US!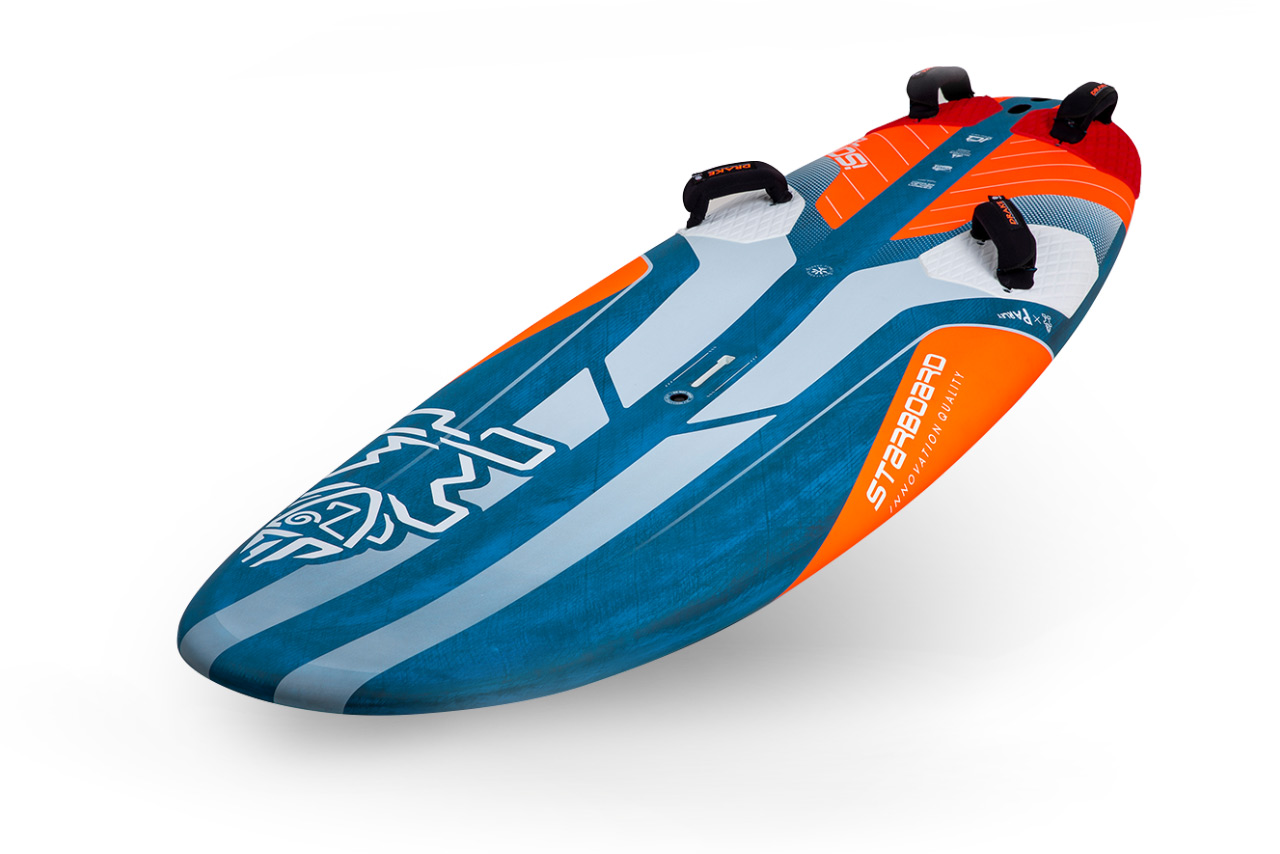 WHAT'S NEW?
This year we introduce a completely new concept on three sizes: 67, 72 and 85.
With our new iSonics you will fly over the water with unprecedented control. When hitting a gust, the nose just keeps straight and you will accelerate. However, that doesn't mean the boards became sticky. They feel super free under your feet and release before you get too much pressure.
How did we achieve that? We made the boards significantly wider at 20cm off the tail, while keeping the same tuck line on the cut-outs. Behind the fin, we added Arrow cut-aways and moved the rear foot straps further back. Finally we moved the Mast track further back as well. Those are big changes, which make a big difference on the water, especially when fully powered up.
iSonic 63: Matteo Iachino's secret weapon for strong winds remains unchanged in 2022. Comfort at high speeds with deep concaves. This comfort allows you to go even faster. The strap positions are far in the back to reduce the wetted surface area to a minimum, making the board feel totally free while remaining in control. With this combination you can unlock some insane top speeds.
iSonic 67 - our best ever. This is hands down the best slalom board we have made so far. With a one and a half centimeter wider outline in the tail we drastically improved fun and speed in lighter winds. The new tail cut-aways changed in line with the 72 and 85, allowing you to fly the board freely over the chop.
The most exciting feature about this board is the incredible control. No matter how windy or how choppy it is, the nose will never fly away. You just have to try it in order to understand how good it is. It's the perfect medium size board for light riders and women.
iSonic 73: The 73 has been a world wide favorite. For 2022, we increased the width to 73cm at the widest point and added a massive 2cm at the rear foot straps, while leaving the tuck line untouched. With this change, you will have more power in lighter winds and in critical situations, for example when overtaking your friends! As the wind picks up you can get even more release thanks to our new Arrrow cut-away design at the very end of the tail, which means less surface in the water and higher top end speeds. To top it off, we moved the rear foot straps and the mast track further back. You will be blown away by how much control you can have while flying this new board design over the water surface.
iSonic 85: Our fastest board for light winds became even better for those dodgy conditions. Foils have become a true challenger to the big slalom boards. Therefore, we increased the width in the tail, giving you so much more power in the low end. The tuck lines stay unchanged. The tail cut aways changed in line with the 72 and 67, making the board feel super loose under your feet and take you to higher end speeds.
The biggest change is a wider end tail section. Once the board wants to fly away in strong gusts the tail section gets activated and keeps the nose low.
Key Features
WIDER TAILS

The new shapes got a wider tail while keeping the tuck line of the cut away unchanged. The result: More power for light wind and critical overtaking maneuvers. More control in extreme conditions.

 

BACK FOOTSTRAPS

Both on the 73 and 67 we moved the rear foot straps further towards the back. This allows for less surface in the water and thus increases top end speed.

DOUBLE STEP CUTAWAYS

Double Step Cutaways for added release and increased speed.

ARROW CUT AWAYS

Our new Arrow Cut Away design is featured on the 67, 73 and 85. It's a diagonal cut away behind the fin that gives you a super loose ride. Do you remember how a board loads up when hitting a gust? That feeling is history.

 

MAST TRACK FURTHER BACK

On the 85 and 73, we moved the mast track 1cm and 3cm, respectively, further back which makes the board ride even more free.

DRAKE SLICK FOOTSTRAPS

The Drake Slick footstraps are made with FSC-certified, sustainably sourced and plant-based Yulex foam. With 85% natural rubber content, CO² emitted during the manufacturing process is reduced by 80%. The remaining 15% of synthetic neoprene is kept to improve UV resistance. Carefully sourced with the smoothest fabric for a comfortable feel.
Construction
CARBON SANDWICH
ULTRALIGHT WEIGHT
Ultralight weight at a more affordable price and using more environmentally friendly materials. The bottom is built in full T700 uni-directional flat-woven carbon for maximum stiffness while the deck is 60% carbon, alternating between uni-directional and bi-axial carbon layers for optimized flex. The composite sandwich layers include the use of ultra-high density PET and PVC foam.
CARBON REFLEX SANDWICH
THE FLAGSHIP CONSTRUCTION
The iSonic Carbon Reflex is our flagship range. The light weight allows you to get going easier, plane through wind holes and get the best top speed. Carbon Reflex is our stiffest construction, giving you the best control when hitting chop and waves. Decks are built with the lightest grade of biaxial and uni-directional carbon fibre orientated between 45, 30 and 0 degrees for optimized flex and reflex characteristics. The bottom of the boards use an even lighter grade of uni-directional carbon fibre from nose to tail, with an extra 45 degree biaxial carbon layer in the tail area for added torsional stiffness.
Poole Harbour Watersports delivery and shipping terms can be found on our page
Delivery Info
Free Delivery is available, but certain charges apply for oversized and second hand items, and items being shipped abroad.
If you require any more information, please feel free to contact us at
info@pooleharbour.co.uk
or 01202 700503.